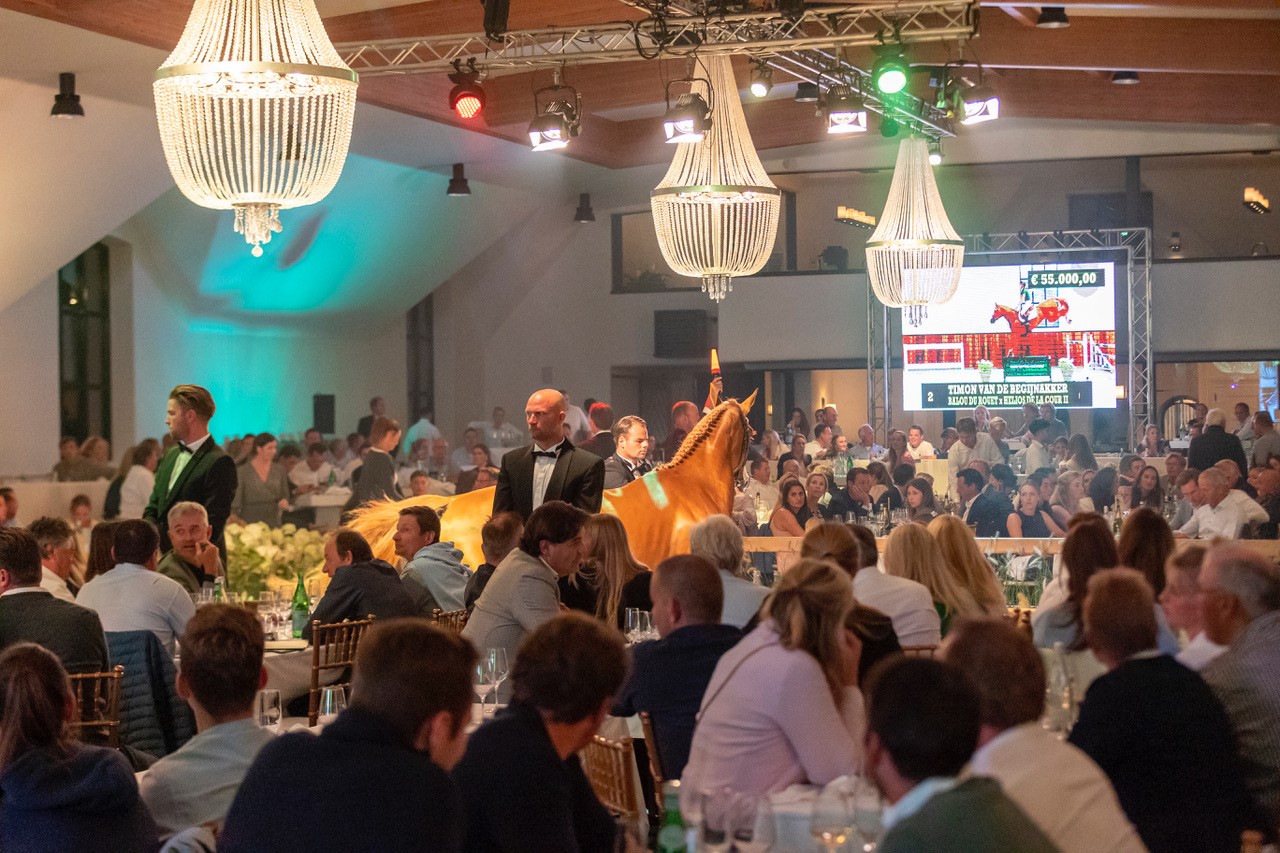 Suus Kuyten Auctions an overwhelming success
With sales to professional showjumping stables, extremely enthusiastic visitors and a 100% sales ratio, the first edition of Suus Kuyten Auctions on Tuesday 13 September can be called a great success. The Dutch Suus Kuyten and Harrie Wiering organised an exclusive auction with quality showjumping horses and with a lot of attention for the guests. This was rewarded by good returns.
Official opening
After the official opening of the magnificent, new accommodation in Eemnes, the atmosphere soon became exuberant with a commendable dinner and a performance from saxophone players Hans and Candy Dulfer. Mini horse Máximaatje earned 6,500 euro for the Princes Maxima Center for child oncology and that was the start of the auction.
Every auction horse sold
The fifteen auction horses were knocked down one after another. With 110,000 euro the 8-yr-old Jamal E.B. (Action-Breaker) was the most expensive horse and he will stay in Dutch hands for the time being. The 6-yr-old Limoncello (C-Ingmar) changed hands for 95,000 euro, the 5-yr-old Rocco van 't Koningsbos (Chacoon Blue) found a new owner for 90,000 euro. Most popular among the 3-yr-old jumping horses were the licensed stallions Timon van de Begijnakker (Balou du Rouet) with 75,000 euro and Bit Coin de Mahn Z (Big Star) with 38,000 euro.
"Tremendously good prices, weren't they? I had expected to receive a little more for a certain horse, but I would not dream of keeping it for myself. That would be adverse advertising. Every horse got sold, people clearly felt that they could get some good horses here. We hoped to stage a transparent auction, where all those present would enjoy themselves. I believe we did just that", says a smiling Suus Kuyten.
On to the next edition
The visitors have intensely posted about the auction night on the social media. "We stuck our neck out and that was appreciated. I think people are still talking about it. I am on the point of going horse-scouting again, for there will definitely be a next auction!"
Deel dit bericht